A clever, well-structured, and gripping read, I would recommend it to lovers of fantasy and science fiction. – In The Read
'The prolific Brisbane author returns with an intrguing yarn about a cursed love affair spanning a mellium' – Who magazine
The Immortal Bind takes you on a journey through the ages and creates such a spell binding tale of love, star crossed lovers and hope for a future between soul mates. – Wanderlust Reads
Another great novel from author Traci Harding which takes a familiar premise and turns it into something unique and cleverly crafted. The Immortal Bind will you captivated from start to finish – Impulse Gamer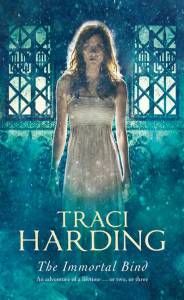 When Sara is gifted a beautiful antique chair as a wedding present, she is completely unaware that is is one of a unique pair.  On the other side of the world, the chair's twin is presented to a reclusive artist, Jon, as a birthday gift.
The two new owners are thrust into a mind-expanding adventure through the ages – medieval East Anglia, Scotland, France and India.
In each instance, they experience significant junctions in their lives past, to remember and redress ripples of karma they set in motion and thwart an evil entity that still threatens their present day lives.
The Immortal Bind is also available on ebook and audio.
Autographed by Traci Harding    – $35.00
Traci is a master storyteller as you never know what was going to happen! If you're looking for a book with mystery, intrigue and great characters, The Storyteller's Muse successfully ticks all these boxes and delivers a very enjoyable and additive read from start to finish! – Impulse Gamer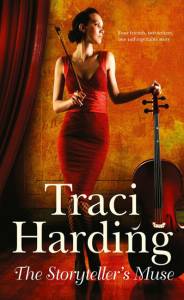 Peter is a young nurse and aspiring author whose professional dreams have come true – a patient in his care, Penelope, needs someone to transcribe her final story.
Revolving around four friends sharing an apartment where they hone their artistic and musical skills, Peter soon realises there is more to the story –
Another presence is lurking in the building.
The StoryTellers Muse is also available on ebook and audio.
Autographed by Traci Harding    – $35.00